Have you started your list of spring cleaning??? Don't worry I haven't either! :) I have been a fan of smashing magazines desktop photos since back in November when I discovered the site through another blog. They have artist that submit their designs to the site for that month. I like to go in at the beginning of the month and pick a new wallpaper, it's very refreshing!
This month I came across a neat design called "Tidy Desktop".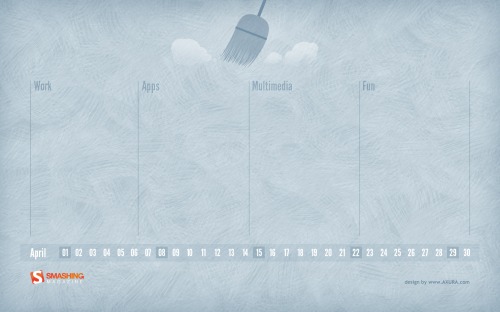 Usually I go for something with more pop of color or fun doodles but this one caught my eye because you can arrange your desktop items into the categories listed; Work, Apps, Multimedia, and Fun. My work desk top is a mess with excel sheets, quick links to sites I use often to direct parents and students, and of course all of the multimedia icons that I have cramping up my desktop. See how I arranged my desktop below. :)
I also really like the theme of "spring cleaning" since it is about that time of the year. Hopefully this will be a daily reminder to get me on track to cleaning some stuff around the house before the big move.
Click here to go to April's desk top wallpapers provided for free by Smashing Magazine.